Gasson's NAPA Autocare brings you the Experience of highly trained technicians and the piece of mind that comes with a brand name like NAPA.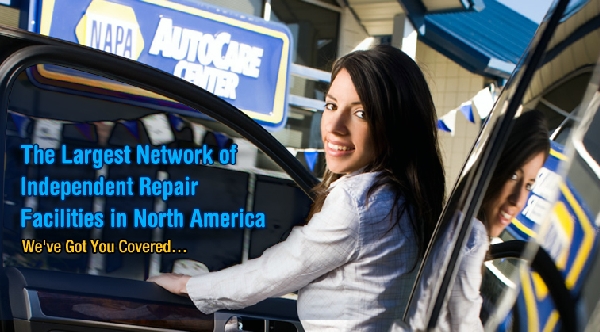 NAPA AutoCare
is designed with today's consumers in mind. NAPA knows that a primary concern for consumers is to find a reputable repair business that performs quality work and at a fair price. NAPA AutoCare is not a franchise, but rather, a quality standard where independent repair business owners are invited to join based upon their community reputation, integrity, qualifications and expertise. Wherever your travels may take you, as well as right within your community, you'll find a NAPA AutoCare Center that can professionally take care of all your vehicle needs. Consumers consistently select a NAPA AutoCare Center because of the trust and confidence they have in NAPA quality parts and NAPA AutoCare's commitment to excellence and best in class service. Taking care of your car's health is an important part of protecting your investment and protecting your family.
Gasson's NAPA Autocare is a full-service preventive maintenance and automotive repair center that has been performing high quality, guaranteed automotive repairs in the Jacksonville area for 3 generations. Family owned and operated, with over 30 years of experience in the auto repair industry, we have the skills and know-how necessary to get the job done right the first time. We are your logical alternative to the dealership for all scheduled maintenance of your vehicles. Bring in your foreign and domestic auto, SUV, or pickup today with complete confidence that your vehicle will be serviced correctly while maintaining your manufacturer's warranty. We use the latest diagnostic equipment to guarantee your vehicle is repaired or serviced properly and in a timely fashion. We only use quality replacement parts, and our technicians are ASE-certified.
Gasson's NAPA Autocare is a certified Napa Auto Care Center and is able to provide the benefits of an established national entity while maintaining those personal touches that mean so much.
As a NAPA AutoCare Center, we follow a strict Code of Ethics so customers will know up front what to expect. As part of this code, we pledge:
* To perform high quality diagnostic and repair service at a fair price using quality NAPA parts
* To employ ASE Certified Technicians
* To be dedicated to customer satisfaction
* To exercise reasonable care for the customers property while in our possession
* To obtain prior authorization and provide a price estimate for work performed
* To provide a system for fair settlement of customer complaints should they occur
* To maintain the highest standards of our profession
* To uphold the integrity of all members of the NAPA AutoCare Program
Our National NAPA Auto Care Warranty
We currently offer the NAPA AutoCare "Peace of Mind" Warranty, providing customers with 12 months/12,000 miles of worry-free protection on qualifying parts and labor. Wherever you may travel, our warranty is honored at over 13,000 NAPA AutoCare locations across the country.
Napa AutoCare Peace of Mind Warranty
There's no greater peace of mind knowing you have one less worry by having your vehicles serviced by the ASE certified automotive service and repair professionals at your local NAPA AutoCare Center. They stand behind their work with the NAPA AutoCare Peace of Mind Warranty.
* Included FREE with your qualifying repair or service work.
* Covers parts and labor on qualifying repairs and services for 12 months/12,000 miles. That doubles to 24 months/24,000 miles if you use your NAPA Visa or NAPA AutoCare EasyPay Credit Card (applications available at participating locations).
* Honored nationwide by thousands of NAPA AutoCare Centers, so you're protected even when you travel.
All NAPA AutoCare Center locations are locally owned and operated. NAPA AutoCare is not a franchise, but a high standard in the automotive industry developed by NAPA more than 20 years ago. Because it meets or exceeds NAPA's high standards — and has an outstanding reputation in your community — your local NAPA AutoCare Center can offer exclusive benefits like the NAPA AutoCare Peace of Mind Warranty to its customers.